Look around you: Tyler, the Creator, Kendall Jenner, Eddie Redmayne, fashion muse Daisy Edgar-Jones, heck, even the lovable Chandler Bing, have all appreciated the style and beauty of the sweater vest and wear it with pride.
Granted, no one thought that this geeky piece of clothing would ever be the center of attention.
It had its time in the 70s, especially in the UK. Well, surprise, surprise! If you're hoping to turn some heads this coming year, then a sweater vest is the way to go.
As incredible as it may be, this garment is also quite delicate and unpredictable in terms of outfits. Only the right pairing can make you shine more than you do right now.
You're probably in a dilemma of wanting to join the sweater vest fad, but you don't know how to go about it. Good news: You're not alone! Grab a seat, breathe in, and read away for the answers you seek.
More On the Sweater Vest
Simply put, it's a sweater with no sleeves and a low neckline (at times).
You can find it in either the buttoned or buttonless varieties.
Sweater vests come in many shapes and colors. Plus, they offer the same amount of warmth as a full sweater, only that most people consider them to be informal and fit to wear on casual occasions.
Ways to Wear a Sleeveless Sweater
Here are some simple yet stylish ideas from fashion icons:
1. With Button-Down Collared Shirt
The sweater vest with button-down collared shirt is such a classic look (for men and women).
2. Sweater vest by itself
Who says you need to dress it up. You can wear a sweater vest on its own. Check out the example above.
3. Sweater Vest With Dress
What You'll Require to Achieve This Look:
Casual shoes
Slouchy sleeveless sweater
Floaty frock
The sweater vest complements the dress perfectly if you're going for a relaxed and friendly look.
Depending on your type of gown, you can either tap into the 70s look and pair an oversized sweater with stompy shoes and a floral maxi dress, or keep it traditional and opt for a shirt dress.
Style Tip: If you choose an oversized sweater, consider wearing a belt to curve out your waist.
4. A Sweater Vest and Flared Denim Jeans
You should tuck the vest inside the jeans for that ultimate chic look.
The outfit has a 70s aura surrounding it, so you want to include a modern touch into it by adding contemporary pieces like a 90s-time baguette bag, flats or pointy-toe heels, or a chain necklace or two.
FYI, sweater vests go great with denim pants generally.
5. Sweater Vest and T-Shirt
Source: Revolve
You'll Need:
Statement sleeveless sweater
Roomy skirt or wide-legged pants
Fitted T-shirt- preferably a casual one
Are you looking for a cool way to cruise around town while experiencing maximum comfort? You'll love this look.
Its biggest advantage is it can work for you despite your size.
Opt for a vest with fun prints and vibrant colors to strengthen your look. It should be the center of your outfit anyway.
The rest of the look can be monochrome.
6. Buttoned Up Sleeveless Sweater with Pants
Source: Revolve
Most sweater vests have a buttoned-up design, and it's for a good reason: To enhance the sweater's presence and amplify its beauty.
Such sweater vests are best on their own. Ensure that it fits you perfectly for a sexy look. Pair them with black ballet flats and cream-colored pants or shorts.
The more fitting your pants are, the better, as long as you can walk comfortably in them.
Fashion Tips: Avoid flared pants. They have a casual look, but they won't complete the outfit well.
You can use any other color for the pants, as long as they're skinny.
7. Sweater Vest With Shorts
Source: Revolve
A leather piece is a nice way to look glamorous and cool at once.
Your brown sleeveless sweater can match well with a pair of black leather shorts.
Black pairs with black, so black leather heels are an earth-shattering way to add a statement to your final look.
8. Short Sweater Vest With Long-Sleeve Shirt and Pants
Source: Anthropologie
Whether you want to make a statement at work or want to stand out at the mall, this breezy and comfortable outfit is the perfect pick for you.
Consider picking a long-sleeve white shirt to go with the vest to amplify it better.
You can also unbutton your vest if you're going for a carefree and daredevil kind of look.
Wrap the whole outfit up with a pair of wedges or comfortable clogs or ordinary shoes and colorful socks to complement the bright sleeveless sweater. Socks are more of a choice than a requirement.
9. With Short Sleeve Shirt and Jeans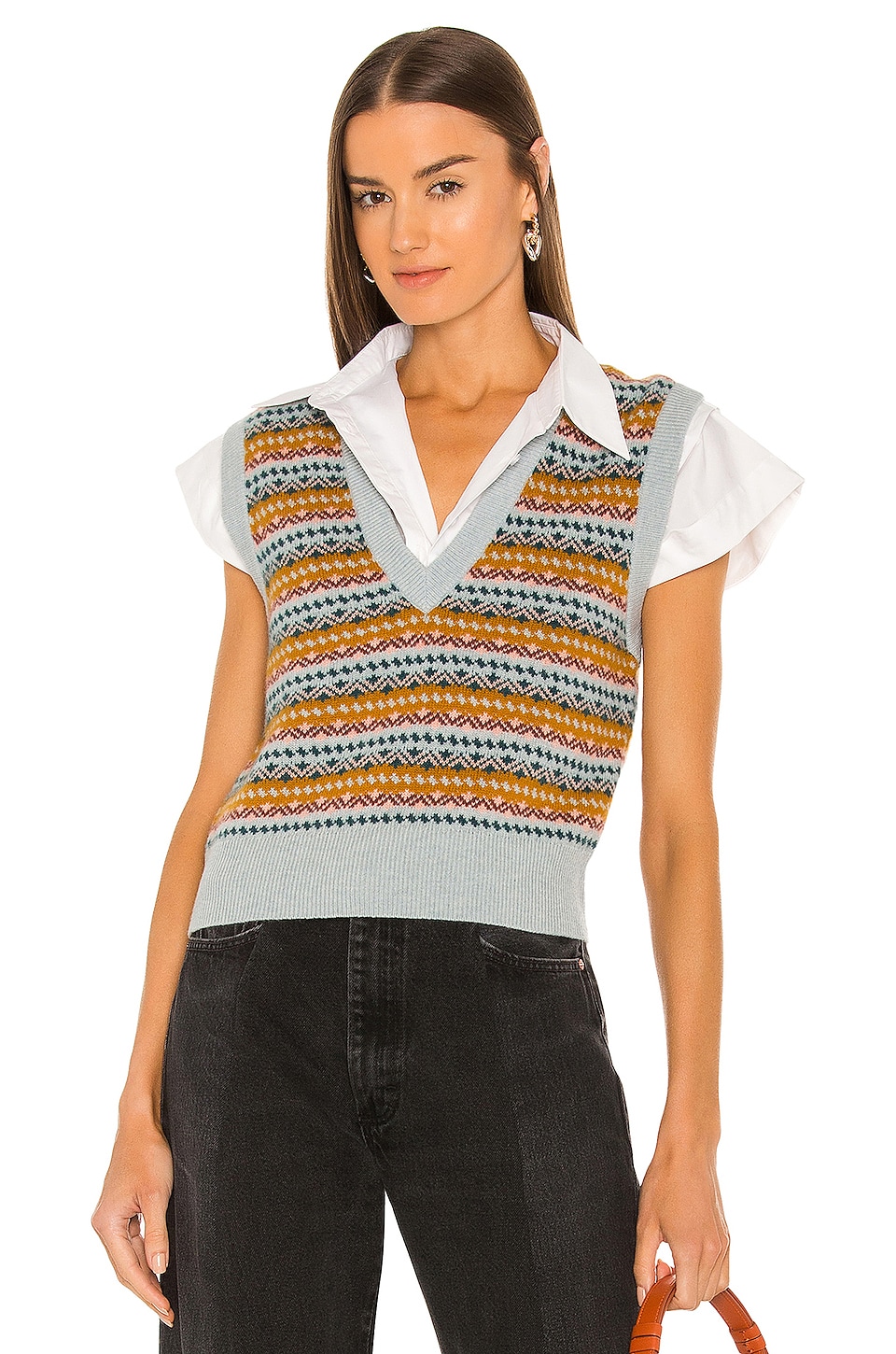 Source: Revolve
Laid-back and semi-formal are some perfect terms to describe this outfit.
The open-collared shirt and black jeans add a touch of informality to the look.
In this case, you should tuck in your shirt to bring out that desired look.
The sweater is impressively stretchy and comfortable, so you can wear it despite the weather.
Fashion Tips: Go for jeans that reach just above your ankles.
Don't wear a belt. Please go for jeans that fit you properly.
10. Striped Colorful Vest With Blue Sweater and Red Pants
Color, color, and more color. This vibrant choice is ideal for an afternoon with friends or cruising around town like the queen you are.
You can add some oomph to the look with yellow sunglasses and a maroon purse to complement the red pants.
If you choose to pull up the long-sleeve blue sweater's sleeves, ensure they reach slightly above your wrist.
As for footwear, consider white wedges to balance the look or yellow ones to complement the sunglasses.
11. With Long- Sleeve Shirt and Leather Mini-Shorts
Source: Revolve
Looking for a perfect opportunity to show off your perfect legs while maintaining style and subtleness? Go for this choice!
You can throw in some sunglasses for that allure and tempting appearance.
The outfit is pretty easy to pull off despite your features. Check it out for yourself:
Which Sweater Vests Are In Right Now?
Here are some sleeveless sweater picks that'll give you that trendy look you desire while maintaining your personality type:
Wool-boucle vest– it may look ordinary, but this piece adds the spark to your attire. Trust us.
Embellished cable-knit wool vest– this article from Gucci screams style with a touch of class and creativity.
Cashmere sleeveless turtleneck tunic– the beauty of this garment is it has several uses: It can either add the 'wow' factor to simple slacks for all your holiday pic requirements or function as a sweaterdress over tights.
Laura Sweater– if you think that 'sexy' and 'sweater vest' can't be in the same sentence, this ribbed sleeveless sweater is here to prove you wrong. Its open-back design gives it an appealing and modern look.
Clueless crop sweater vest– this classic piece gets an awesome fashion upgrade from the cropped length.
Whipstitched vest– creators of this unique piece gave it a modern look with the alternating whipstitching.
Tape yarn sleeveless tunic sweater– loosely fitting, glamorous, and cute, this beauty comes in seven exciting shades and is sure to make you the center of attention wherever you go.
Spotted knit vest– plain knit vests are so 90s. This sweater vest comes to the rescue with its striking animal print over a plain background.
Sweater vest V-neck pullover sweater– you can tell just from its appearance that this vest has nothing but the best to offer.
Stradivarius oversized v-neck knit sweater vest– if you're looking to flaunt your eye-catching blouse or top while looking chic, this low V-neck sweater gives you the chance to do just that.
Tie detailed spencer vest– you can rock this awesome silhouette in two ways: On its own as a perfect twist on a classic sweater or paired with long sleeves for a comfortable layered appearance.
Philosophy di Lorenzo Serafini striped knit top– this is the right piece for cocktail parties and virtual meetings if you're looking to show some shoulder.
Collegiate sweater vest– a striped V neck plus cable knitting provides this sleeveless sweater with an immediate preppy appeal.
Turtleneck sweater vest– it's amazing how much creativity is there among these silhouettes. This choice is a perfect example of uniqueness. Its classic Fair Isle style grants it an apres-ski attraction.
Cable-knit turtleneck sweater vest– this thick, oversized cable knit vest is the ideal choice for bringing your floaty summer gowns into the colder seasons.
Marshalina college cardigan vest– it might have a prep school vibe from a distance, but you'll appreciate this embroidered, brass-buttoned cardigan vest's beauty once you wear it.
Pointers on Putting on a Sleeveless Sweater Like a Style Guru
Two main tips should always stick in your mind whenever you reach out for a sweater vest:
Wear a sweater that fits you perfectly– a vest that's too big will give you a lumpy look, while a sweater that's too tiny will make you resemble a stuffed sausage. A well-fitting sweater vest allows you to move easily without compromising your fashion sense.
Always mind the colors– your color choice should depend on the occasion. For instance, weekends are a perfect time to go crazy with colors. An example is a patterned vest and white crewneck combination. As for the weekdays, solid and neutral hues will do the trick best.
FAQs
Are Sleeveless Sweaters Popular?
You bet! Thanks to celebrities doing their thing and fashion gurus finding new ways to add sweater vests into their daily outfits, these convenient pieces are gaining acceptance by the day.
It's even safe to say they're more popular today than they were back in the day.
Can You Rock a Sweater Vest In Summer?
Yeap. Their design allows them to be breathable even on the hottest days. Air passes through the spaces on the sleeves and their bottom part.
What's more, there are specific pieces for summer, which manufacturers create from light material.
What Should I Wear Under My Sweater Vest?
It all boils down to personal preference and the weather.
You could put on a tee under it in a more informal setting or if you're looking to experiment and get the feel of the outfit.
As for a long-sleeve shirt, it works best if you'd like to add an extra layer of warmth on a cold day or you prefer not to show so much arm.
A sweater-vest-alone look is the sexiest and most daring of the three. It's more seductive and works best with all sweater types and confidence, of course.
How Do I Wear My Knit?
It sounds obvious, but hear us out. This is an excellent question.
Match your sleeveless sweater with jeans, skirts, or shorts for a casual look.
For jeans, fitting blue or black denims are the best for a friendly look.
You can take two paths with skirts: The knee-length route and the mini route.
Knee-length skirts are more minimal and modest but girlie at the same time. Denim is the perfect material for them as it brings the vibe seamlessly.
On the other hand, mini-skirts are flirty and provocative. As such, consider picking leather mini-skirts for extra physical impact and pair them with leather boots.
Shorts are a midway between skirts and pants. However, they can be a better substitute for skirts if you're looking for something that allows you to bend or survive windy weather minus the oops moment.
One More Thing
Let's face it: A sweater vest is no longer a dorky uniform piece or the typical dad's go-to clothing. Celebrities have sexed it up, elevating its status to super cool.
It's time to change your mentality about it and give it a try.
Of course, style and personality, not to mention confidence, matter as you pick your vest.
There are many choices on how to style your sweater vest, but the above are the top ones.
Give either of them a try and experience fabulous dressing on a whole new level.