The sweater vest is a versatile piece of fashion, isn't it? This is one of the few garments that can be worn to style a preppy look or an academic look, a sexy look or even a super cool and casual look. There are so many different ways to wear a sweater vest, you can definitely design an outfit that's going to capture your personal style. Start playing around with different sweater vests looks and see how good you can look in this fashion staple. When you know how to style a sweater vest, you'll always know how to create an amazing look.
History of Sweater Vests
The word "sweater" appeared first in the Oxford dictionary in 1882. Sweaters were popularly worn by athletes, particularly rowers. In 1907, the Michigan football team uniforms were issued with sweater vests. President Woodrow Wilson was photographed wearing a sweater vest in 1910 and the trend was official. By the 1930s, sweater vests were a standard part of men's fashion. Eleanor Roosevelt, then the First Lady of the United States, wore one in 1934. This may be what started to make the sweater vest popular in women's fashion.
The sweater vest remained a part of trendy fashion from then on, with different patterns and color combinations becoming popular through the decades. Internet star Emma Chamberlain sweater vest looks prove that this fashion item is a true fashion staple that is still in style and still trendy, even among young gen Z stylistas. The humble sweater vest can be a high-fashion item and the perfect way to capture any style. Yeah, it's a lot more than a knitted vest. You could say that the sweater vest trend has been going strong for over a century. That's 100 years of style.
Types of Sweater Vests
A sweater vest is one of those clothing items that immediately stands out. As soon as you see one, you know that it's a sweater vest. This is a simple sleeveless knit garment that fits around the torso. But within this basic definition, the sweater vest has a lot of different styles and a lot of different looks. Play around with different types of sweater vests to try different looks and learn how to style a sweater vest to create any kind of fashion vibe you want.
Cardigan
The cardigan sweater vest is a button-up design that looks like a classic cardigan but without any sleeves, in true sweater vest style. This knit vest can be styled with a number of different looks, from a glamorous high-fashion style to very casual design.
J. Crew is an amazing place to start if you want to shop for a preppy look. Not only can you find some great sweater vest styles here, but you can also find everything else you might need to complete your preppy look. J. Crew is a famous name in fashion that's known for high-quality clothing. Cashmere and cable knit sweater vests will give your looks a high-end polish.
Crop
Cropped or crop sweater vests are short. They don't extend all the way down to the waist and instead end anywhere from just under the bustline to just above the belly button. This sleeveless sweater vest design can be used to create all kinds of styles, from sexy to super preppy looks. Pairing a crop sweater vest with an oversized shirt is an easy fashion hack that looks cute and casually chic.
Mango has a great selection of casual sweater vests that can be styled a number of different ways. Sweater vests here come in a wide range of colors and sizes to suit multiple body types and fashion tastes. Clothing here is highly affordable but still looks well-made and fashionable.
Oversized
Some sweater vests are designed to have a large, roomy fit around the body. This makes them loose and comfortable to wear. A pair of leggings and an oversized knit is an easy way to style sweater vests outfits that are chic and comfortable.
T.J. Maxx has a great selection of trendy, fashionable sweater vests that can styled all sorts of different ways. T.J. Maxx is known for offering affordable fashion, so you can fill your closet with the latest styles for less.
Turtle Neck
Sweater vests often come in crew neck and V-neck styles but you can see them with other necklines as well. This includes turtle neck sweater vests that have high necklines. This is a great style to wear in cold weather when a little extra neck protection can make a big difference. A knit sweater vest is a perfect companion for chilly fall, spring or winter weather.
L.L. Bean has a great selection of casual sweater vests that can be used for all kinds of different looks. This is a trusted name in fashion that's known for its outdoorsy, stylish clothing designs. When you want to style sweater vest outfits for the outdoors, you want to take a look around at the L.L. Bean online store.
V Neck
V neck sweater vest designs are a very popular look. These sweater vests allow you to show off the shirt you're wearing under the sweater vest. And if you aren't wearing a shirt under there, it'll let you show off some skin.
There's a big selection of sweater vests at the Ralph Lauren online store. Ralph Lauren is one of the best-known fashion designers and the store is chock-full of high-fashion designs. There are all sorts of different sweater vests here, from casual cardigans to stylish preppy looks with the Ralph Lauren logo on them. Styles here are surprisingly affordable, so you get all the high-fashion looks without the high-fashion cost.
Sweater Vest Outfit Ideas
There are lots of different ways to wear a sweater vest. As you play around with this piece of fashion, you'll start putting together your own looks and developing your own creative styles. But there are plenty of classic sweater vest outfits you can try. Start with some classic looks and soon, you'll be putting your own spin on them to show off your personal sweater vest style.
Casual Cool
When it's styled the right way, a sweater vest can look cool and casual. Wear a sweater vest over a standard white T-shirt, a true fashion staple, and a pair of blue jeans. Finish off the outfit with a pair of sneakers and just like that, you've captured casual, cool sweater vest style. This look was made famous by Matthew Broderick when he played title character Ferris Bueller. Add a little bit of swagger to this look and you'll be ready to take on the world. A white shirt with a sweater vest is a great go-to look when you want to be casual but with a refined sort of vibe. This pairs great with a jean, which keeps things casual and comfortable.
Casual Glam
Create a look that's both casual and a little glamorous to look super fashionable and ready for anything. Try wearing a matching sweater vest and slacks with button up collared shirt. Carry a cute clutch, add a pair of high heels and top it all off with dark sunglasses and one piece of statement jewelry. This is a breezy, elegant look that's great for shopping, a day date, a day with the girls, a lunch meeting or anything else you might want to do.
High Fashion Preppy
Wear a cropped sweater vest over a shirt dress or a long shirt and skirt combo to create a cute, high fashion preppy look. Finish this look with boots or loafers. This is a look that was seen in "Clueless" and it's a look that still really works today. Kendall Jenner frequently wears cropped sweater vests, clearly drawing inspiration from Alicia Silverstone's "Clueless" character Cher.
Preppy
The sweater vest was practically made for a preppy look. When styled the right way, the sweater vest is a perfect complement for any preppy outfit. Get the look by pairing the vest with a button-up collared shirt and a pair of tailored slacks. Complete your outfit with a pair of loafers. Harry Styles used sweater vests to capture preppy style a number of times, delighting fans and setting social media on fire with his various outfits. Drive the preppy look home with an argyle sweater vest, a classic look that definitely finishes off any conservative style.
Sexy Glamorous
Design a look that's both sexy and glamorous with an oversized sweater vest. Wear it with tight-fitting pants and a long sleeves V-neck or button-up shirt that you can open up to a V neckline. Complete your style with a pair of high heels or strappy sandals. Tight-fitting leather pants can really make a sweater dress look sexy.
Sexy Preppy
Add some sex appeal to a classic preppy look by wearing your sweater vest with a sleeveless shirt and a short skirt. This allows you to show some skin. The sweater vest should be a bit form-fitting, too. Ankle boots or clunky sandals will complete this style nicely.
Vintage Chic
Tap into vintage style by wearing a sweater vest with a sleeveless top. Pair it with flared jeans. Pull the look together with ballerina flats and a matching belt and you will have a great vintage look that is fun, casual and cute.
With Button-Down Collared Shirt
The sweater vest with button-down collared shirt is such a classic look (for men and women).
Sweater vest by itself
Who says you need to dress it up. You can wear a sweater vest on its own. Check out the example above.
With a Dress
What You'll Require to Achieve This Look:
Casual shoes
Slouchy sleeveless sweater
Floaty frock
The sweater vest complements the dress perfectly if you're going for a relaxed and friendly look.
Depending on your type of gown, you can either tap into the 70s look and pair an oversized sweater with stompy shoes and a floral maxi dress, or keep it traditional and opt for a shirt dress.
Style Tip: If you choose an oversized sweater, consider wearing a belt to curve out your waist.
A Sweater Vest and Flared Denim Jeans
You should tuck the vest inside the jeans for that ultimate chic look.
The outfit has a 70s aura surrounding it, so you want to include a modern touch into it by adding contemporary pieces like a 90s-time baguette bag, flats or pointy-toe heels, or a chain necklace or two.
FYI, sweater vests go great with denim pants generally.
With T-Shirt
Source: Revolve
You'll Need:
Statement sleeveless sweater
Roomy skirt or wide-legged pants
Fitted T-shirt- preferably a casual one
Are you looking for a cool way to cruise around town while experiencing maximum comfort? You'll love this look.
Its biggest advantage is it can work for you despite your size.
Opt for a vest with fun prints and vibrant colors to strengthen your look. It should be the center of your outfit anyway.
The rest of the look can be monochrome.
Buttoned Up Sleeveless Sweater with Pants
Source: Revolve
Most sweater vests have a buttoned-up design, and it's for a good reason: To enhance the sweater's presence and amplify its beauty.
Such sweater vests are best on their own. Ensure that it fits you perfectly for a sexy look. Pair them with black ballet flats and cream-colored pants or shorts.
The more fitting your pants are, the better, as long as you can walk comfortably in them.
Fashion Tips: Avoid flared pants. They have a casual look, but they won't complete the outfit well.
You can use any other color for the pants, as long as they're skinny.
Sweater Vest With Shorts
Source: Revolve
A leather piece is a nice way to look glamorous and cool at once.
Your brown sleeveless sweater can match well with a pair of black leather shorts.
Black pairs with black, so black leather heels are an earth-shattering way to add a statement to your final look.
With Long-Sleeve Shirt and Pants
Source: Anthropologie
Whether you want to make a statement at work or want to stand out at the mall, this breezy and comfortable outfit is the perfect pick for you.
Consider picking a long-sleeve white shirt to go with the vest to amplify it better.
You can also unbutton your vest if you're going for a carefree and daredevil kind of look.
Wrap the whole outfit up with a pair of wedges or comfortable clogs or ordinary shoes and colorful socks to complement the bright sleeveless sweater. Socks are more of a choice than a requirement.
With Short Sleeve Shirt and Jeans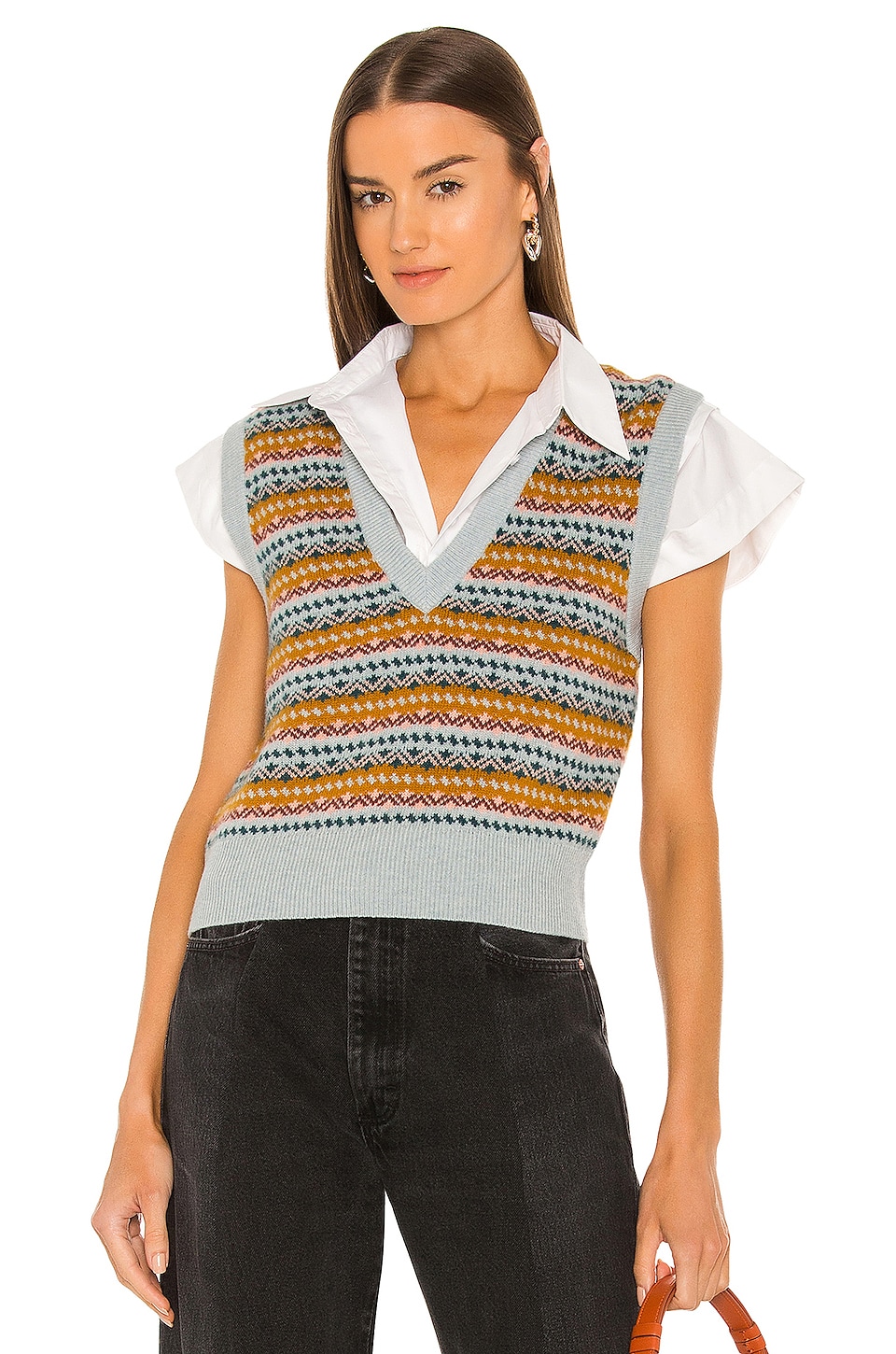 Source: Revolve
Laid-back and semi-formal are some perfect terms to describe this outfit.
The open-collared shirt and black jeans add a touch of informality to the look.
In this case, you should tuck in your shirt to bring out that desired look.
The sweater is impressively stretchy and comfortable, so you can wear it despite the weather.
Fashion Tips: Go for jeans that reach just above your ankles.
Don't wear a belt. Please go for jeans that fit you properly.
Striped Colorful Vest With Blue Sweater and Red Pants
Color, color, and more color. This vibrant choice is ideal for an afternoon with friends or cruising around town like the queen you are.
You can add some oomph to the look with yellow sunglasses and a maroon purse to complement the red pants.
If you choose to pull up the long-sleeve blue sweater's sleeves, ensure they reach slightly above your wrist.
As for footwear, consider white wedges to balance the look or yellow ones to complement the sunglasses.
With Long- Sleeve Shirt and Leather Mini-Shorts
Source: Revolve
Looking for a perfect opportunity to show off your perfect legs while maintaining style and subtleness? Go for this choice!
You can throw in some sunglasses for that allure and tempting appearance.
The outfit is pretty easy to pull off despite your features. Check it out for yourself:
FAQs
There's a lot you can do with a sweater vest and that's why you have a lot to be confused about. If you still have questions about how to style a sweater vest, no problem. We've got all the answers to all the most frequently asked questions about sweater vests.
Can you wear a sweater vest in summer?
Sweater vests are truly the perfect fall and spring fashion garment but you can wear them in warmer weather, too. Yes, you can wear a sweater vest in the summer if you style it the right way. First stick to a loose-knit, lightweight sweater vest. You don't want anything that's too heavy or thick, because this will hold heat in around your body and make you feel warmer. That's going to get uncomfortable pretty quickly. Also, wear the sweater vest with a sleeveless or short sleeve top. You want your top to also be lightweight so that it's breathable and comfortable.
Complete the outfit with a pair of shorts or a skirt that keeps your legs exposed to airflow. This will help you stay cooler overall.
Are sweater vests in style?
Sweater vests have been around for over 100 years and they've been worn by some of the biggest stars in all fields through the decades. So…are they even still a thing anymore? Are sweater vests hot and trendy or are they just an outdated piece of fashion? The answer is yes. Sweater vests are definitely still ins tyle and they're used to create all sorts of hot, trendy looks.
Can you wear a sweater vest by itself?
Can you wear a sweater vest and nothing underneath it? Of course, you can if you want. However, sweater vests are knit items so this might feel highly uncomfortable. Knit can be somewhat scratchy on skin and that's why most people wear something under a sweater or sweater vest. A thin camisole is very lightweight and won't add a lot of heat to your style but it will protect your skin from the scratchy knit material of the sweater vest. Wearing a camisole or tank top under the sweater vest can make it look as though you aren't wearing anything under the sweater vest.
How can you wear a sweater vest without looking outdated?
The sweater vest is a classic but that doesn't mean it's old-fashioned. This fashion item is still so relevant that if you style an outfit that looks outdated, it's going to look vintage or retro. That means it still looks stylish for today's fashion!
Which types of sweater vests will suit your body shape?
Sweater vests look different on different body types. Women who have a more ample bustline, for example, may find wearing cropped sweater vests a little tricker. Look for sweater vests that are a bit longer so that it fits properly and doesn't ride up or sit uncomfortably on your body. V-neck styles work very well for bustier shapes.
Women with shorter waists can benefit from wearing cropped and shorter styles. Longer sweater vests won't work well with short torsos because it can make you look swamped by your own clothing. You want the vest to end right at the waist or just above the hips.
Sources: